The Torqueedo Travel 1103 CS (shortshaft) is the latest innovation from Torqeedo. This fully electric outboard motor is the successor to the much-sold Travel 1003. The Travel 1103 has all the advantages of its predecessor, but is silent and has 10% more power.

This Travel 1103 is a worthy replacement for the regular smaller petrol engines and therefore suitable for use in harbours, lakes and canals. The Travel 1103 is handy and easy to carry in the optional storage bags.

This Torqeedo electric outboard motor is a true whisper engine and the quietest engine in its class. 

The power of this Travel 1103 is comparable to a 3,3HP petrol engine.
Advantages of the Torqeedo Travel 1103 CS
Noiseless, quieter than the Travel 1003. Only 33dB, so you hardly hear the engine.
Completely waterproof (IP67).
Maintenance free.
Integrated lithium battery provides a "plug and play" outboard, so no hassle.
10% extra power, while keeping the same sailing time.
Faster throttle response time.
On-board computer with GPS location and current engine data, such as battery percentage and speed.
The Travel 1103 CS is a shortshaft engine, comparable to a 3.3 HP, with a whisper-quiet direct drive, faster response forward/backward, reinforced bracket and full aluminum engine housing with integrated 915 Wh lithium battery with built-in computer and GPS receiver, USB adapter, tiller handle with built-in display and magnetic key and is supplied with battery charger. 

BROCHURE TORQEEDO TRAVEL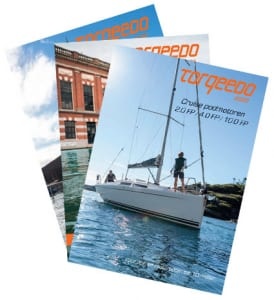 DOWNLOAD FULL TECHNICAL SPECIFICATIONS